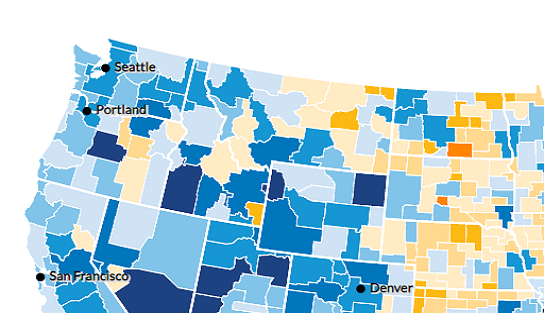 Feeding America and 2nd Harvest Food Banks
Food Insecurity and the Impact of COVID-19
by Trends Staff
2020 has presented us with more than a few unique challenges. The most strenuous are likely those existing before the COVID-19, ultimately made worse by the pandemic. The most concerning are any increased challenges to the most basic necessities of life: food, clothing, and shelter. 
Every year, Feeding America calculates the estimated shares of both the overall and youth populations who had faced with food insecurity "to improve our understanding of food insecurity and food costs at the local level."
Feeding America defines hunger as "a personal, physical sensation of discomfort" and food insecurity as "a lack of available financial resources for food".
Feeding America uses the U.S. Department of Agriculture two-part definition of food insecurity:
Low food security "reduced quality, variety, or desirability of diet. Little or no indication of reduced food intake."
Very low food security "multiple indications of disrupted eating patterns and reduced food intake."
While it is too early to know what the current shares of Walla Walla County food insecurity, Feeding America recently released the 2014-2018 food insecurity estimates along with new 2020 estimates taking into consideration the impact of COVID-19 on food insecurity.
This information is available in a data visualization called Map the Meal Gap. Specifically, this visualization shows a map of the U.S. and the shares of the total and youth populations having struggled with food insecurity in the last 12-months. 
Without giving everything away, during the 2014-2018 time period (using a 5-year moving average) the share of the total population who faced food insecurity in:
Washington State was 10.7%. The share of the youth population was 14.7%.        
The U.S. was 11.5%. The share of the youth population was 15.2%.
It's too important of a subject not to have a look at Walla Walla County, neighboring counties, and other states as benchmarks to Washington State, so we are not providing them here – you have to look at the data visualization. While each location in the U.S. likely has unique challenges regarding food insecurity, the methodology allows for a direct comparison of estimates for any location offered in the map. 
According to their website, "Second Harvest distributes over 2 million pounds of free food each month to help people in need in 26 counties in Eastern Washington and North Idaho." Click to learn more or about how you can help.